Near Real Time (NRT) Canopy Disturbance
This product identifies new forest canopy disturbances on a high temporal frequency basis. A Near Real Time (NRT) Forest Monitoring System is continuously running and Earth Observation (EO) data is processed as soon as it is available, meaning that the system is activated and updated by each newly-acquired EO data set. The type of EO sensors used in the processing chain and their individual repeat pass intervals define the possible frequency of updates to the service.
Detected forest disturbances are mapped and provided by a web mapping service (WMS) or ingested into a user-defined database. Forest canopy disturbances are then monitored over time and classified according to their permanence and size as either "deforestation" (permanent and exceeding a minimum size) or "forest degradation" (non-permanent, or below a minimum size).
A NRT system brings the advantage of timely information on the location and intensity of forest canopy disturbances. The sensitivity of such a system can be adapted to the user needs by defining thresholds and the number of consecutive change events for each pixel location before publishing an alert. Usually, NRT systems are more reliable at identifying the place of an observed activity and less on the precise spatial extent of it. For an accurate land cover change assessment EO4SD-FM provides products like Forest Area Change maps or Land Cover Change maps that are delivered with detailed accuracy figures.
The Near Real-Time service can be used as an input for:
Assessment of Activity Data for REDD+
Analysis of Degradation and Deforestation.
Sustainable Forest Management (SFM)
Forest Landscape Restoration (FLR)
Forest management/ planning.
Mangrove monitoring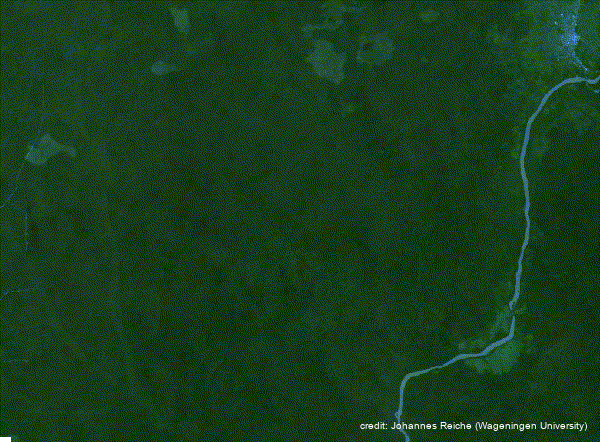 This product provides decision-makers with timely information on forest cover changes e.g. to monitor ongoing logging activities or to plan measures against illegal logging, and to protect forests from unsustainable use.
It also allows improved deforestation and degradation mapping in forests with rapid regrowth and forms the basis of deforestation early warning systems.
Regional, National, Sub-national, Local
TEMPORAL COVERAGE & FREQUENCY
Historical data and/or specific dates
Continuous update is possible (e.g. every 5 days, every month), depending on availability of satellite data
EO DATA AND SPATIAL RESOLUTION
High resolution (HR) satellite data (e.g. Sentinel-1 and Sentinel-2) with 10m resolution
Historic Landsat data with 30m resolution
Overall thematic accuracy: > 70% – 85%.
Positional accuracy: < ~1 pixel of source imagery
OGC compliant service (e.g. WMS, WFS)
In Vector data format (Shapefile)
Geodata in GeoTIFF, ASCIL or similar
With metadata (INSPIRE or ISO)
As cartographic products in .pdf, .png or similar
USB, hard drive
Automated ingestion into a database
Download from dedicated password-protected FTP server or cloud platform
Viewed online through password-protected web portal (Open Geospatial Consortium (OGC) compliant)
Quality Management Systems cover non-conformance issues, timely corrective actions and supporting services relating to reliability, flexibility and timely delivery of services. All quality relevant information and quality checks are documented and cover:

Compliance of output with user requirements
Completeness
Thematic accuracy
Thematic completeness
Positional accuracy
Product utility

Tailored training can be provided on product use and integration for further geospatial analysis