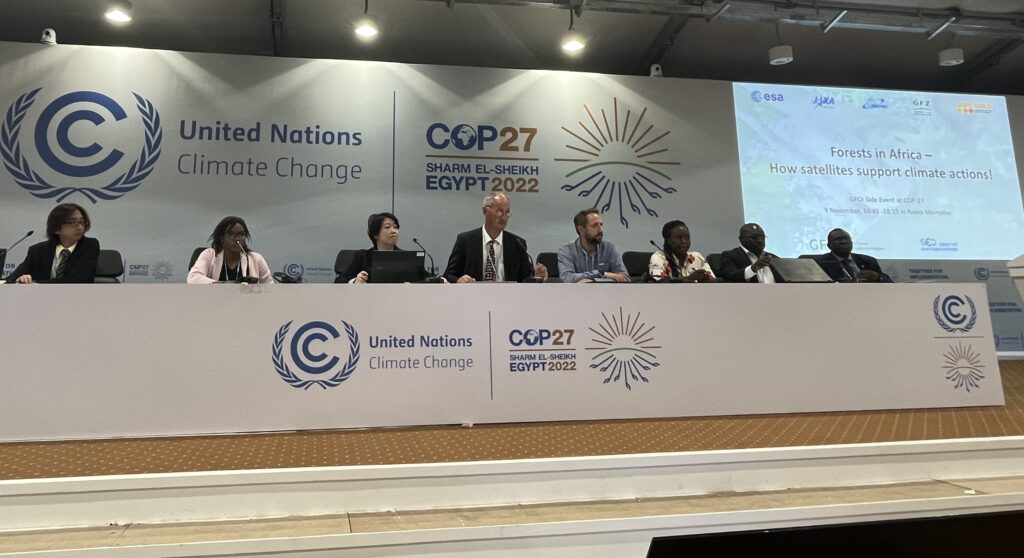 Dr. F-M. Seifert (ESA) highlighted the value of the free and open data from ESA Copernicus for supporting systematic observations required for the global stocktake which is part of the Paris Agreement, and also a multitude of applications such as land monitoring and food security. The golden age of biomass missions is currently providing data applicable across agriculture, forestry and other land use (AFOLU) reporting. It was also highlighted that ESA's WorldCover and ESA's Climate Change Initiative (CCI) Biomass products will support biomass assessments over the next decade. A large variety of EO sensors now supports the increased knowledge on forest dynamics and the terrestrial global carbon stock.
Dr. H. Suto (JAXA) presented the Greenhouse Gases Observing Satellite (GOSAT) which provides freely available data on solar reflected light and thermal emissions. This was highlighted with an example of the emission data from the Congo Basin showing lower tropospheric CO2 emissions over 10 years as well as the data trajectory for near surface water over this time period.
Dr. M. Herold (GFZ-Germany) spoke on capacity developments for EO based forest monitoring in Africa highlighting that 160 support activities have been delivered to African counties by the Global Forest Observations Initiative (GFOI). And that overall, there has been an increase in African countries capacity in using EO for forest change assessment. For example, Mozambique, a GFOI Lead Partner is the first African country to receive payments for Emission Reductions from the World Bank.
Mr. J. Macuacua (Mozambique Ministry of Land and Environment) presented the National Forest Monitoring System (NFMS) used for greenhouse gas (GHG) reporting in Mozambique as required for REDD+ Results Based Payments (RBP). He highlighted the Tree Cover Density (TCD) product provided by EO4SD-FM has an accuracy of ~88% in challenging dry forest ecosystems like Mopane and Miombo, which also is an improvement for distinguishing open and closed canopies.
Ms. T. Nana (US Forest Service USFS) presented Silva Carbon's activities in the Congo Basin to support forest conservation. These included a range of capacity building efforts in the region including a NFMS gap analysis, training on GFOI REDD Compass tools, and Land Use/Land Cover mapping. She concluded with reference to the Central African Women for Climate Action initiative which Silva Carbon initiated to support early career women to get training on GHG reporting.
Ms. F. Mutwiri (Kenya Forest Services), followed by presenting the NFMS in Kenya, including that Kenya has reported a National REDD+ Strategy, and forest reference emission levels (FREL). Their main emerging challenges are monitoring mangroves, cloud cover in these regions, and their plan to monitor tree cover every 5 years. All supporting a national political commitment of increasing the tree cover by 30% by 2030.
Mr. Peter N. Nduati (Kenya Forest Service) concluded on the overall need for improved monitoring of dry forests, the need for accurate maps for woodlands and rangelands, and the specific needs for mapping mangroves in coastal ecosystems.